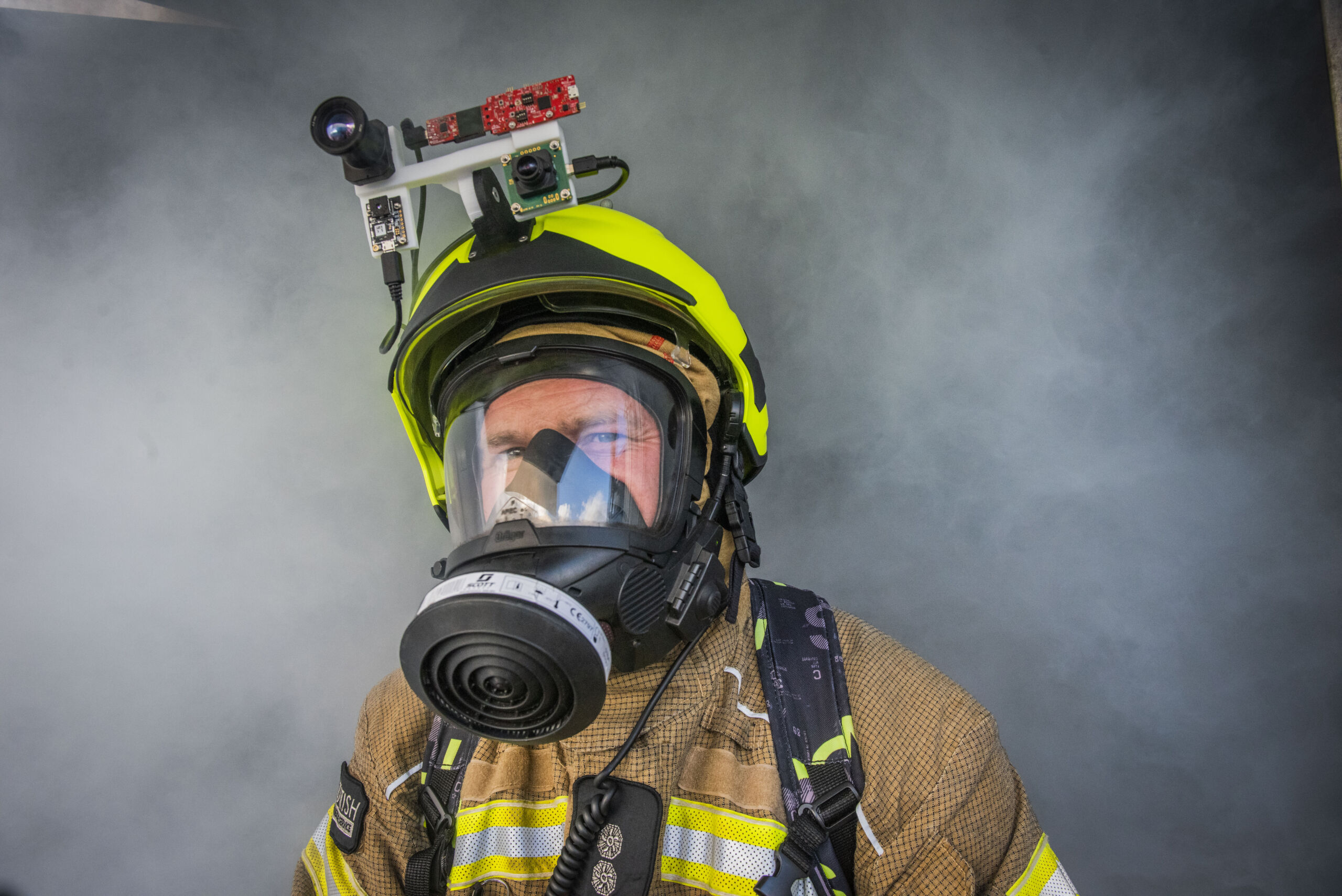 [fusion_builder_container type="flex" hundred_percent="no" equal_height_columns="no" hide_on_mobile="small-visibility,medium-visibility,large-visibility" background_position="center center" background_repeat="no-repeat" fade="no" background_parallax="none" parallax_speed="0.3″ video_aspect_ratio="16:9″ video_loop="yes" video_mute="yes" border_style="solid"][fusion_builder_row][fusion_builder_column type="1_1″ type="1_1″ background_position="left top" border_style="solid" border_position="all" spacing="yes" background_repeat="no-repeat" margin_top="0px" margin_bottom="0px" animation_speed="0.3″ animation_direction="left" hide_on_mobile="small-visibility,medium-visibility,large-visibility" center_content="no" last="no" hover_type="none" min_height="" link=""][fusion_text]
Pioneering new helmet technology which could help firefighters quickly map their surroundings, navigate hazardous environments and efficiently locate fire-scene victims is being developed by University of Edinburgh researchers at the National Robotarium.
The research breakthrough announcement comes as the £22.4 million National Robotarium facility officially opens its doors today, Wednesday 28 September 2022.
Combining feeds from thermal cameras, radar and inertial sensors mounted on a standard-issue firefighting helmet, the technology uses cutting-edge artificial intelligence to provide wearers with real-time information that can help detect victims, recognise teammates and provide an accurate understanding of their own location.
Developmental field trials of the new technology have been conducted in partnership with Scottish Fire and Rescue Service personnel at its £10.5 million training facility in Newbridge, Edinburgh.
It's hoped that the first-of-its-kind technology could support firefighters and scene commanders to more safely navigate adverse or low-visibility conditions such as smoke-filled fire scenes and reduce the time it takes to rescue victims.
Developed by researchers at the University of Edinburgh's School of Informatics and the National Robotarium, a world-leading centre for robotics and artificial intelligence hosted by Heriot-Watt University and the University of Edinburgh, the project has received funding from the Scottish Informatics and Computer Science Alliance (SICSA) and the Scottish Funding Council's SFC Saltire scheme, as well as funding from the University of Edinburgh.
Stewart Miller is CEO of the National Robotarium. Speaking at the opening of the new purpose-built facility today, said: "The development of a smart fire fighting helmet that has the potential to support firefighters and help save lives is an excellent example of the pedigree of research coming from the National Robotarium's two partner universities, each amongst the most prestigious in Scotland.
"As we open the doors of our dedicated, state-of-the-art facility today, we are able to showcase Scotland and the UK's role at the forefront of global developments in AI and robotics, and the role of the National Robotarium in championing and developing solutions to some of society and industry's biggest challenges."
Based at Heriot-Watt University's Edinburgh campus, the National Robotarium houses extensive world-class facilities for researchers and businesses. The facility provides a catalyst for entrepreneurship, bringing together academics and global companies, and is expected to deliver sustainable economic benefit to Edinburgh, the UK and beyond.
Dr Chris Lu, Lecturer in Cyber-Physical Systems in the School of Informatics at the University of Edinburgh who is leading the project, said: "Firefighters often operate in environments with very low or no visibility due to the vast amount of smoke released from a fire. This can make detecting the location of potential victims and whereabouts of firefighters very challenging in situations that are often extremely time-sensitive.
"This new technology has the potential to support on-the-ground firefighters and scene commanders to make crucial in-the-moment decisions that can enhance search rescue efficiency, ensure safer collaboration between teammates and, most importantly, improve outcomes for potential victims of fire scenes.
"Our entire sensor rig weighs less than a kilogram and is composed of affordable, off-the-shelf components that can be easily retrofitted to existing standard-issue firefighting helmets. This means it has the potential to be an incredibly efficient and accessible resource to fire and rescue teams in Scotland, the UK and beyond once fully developed.
"We are continuing to expand the capabilities of the technology with the support of the Scottish Fire & Rescue Service, to whom we are enormously grateful. Our next ambition is to give the helmet the ability to generate 3D maps and an embedded display, which will provide the wearer with even more spatial awareness. We are actively looking to engage with industry partners to help make this next step a reality."
Bryan Todd, Group Commander in Training, Safety & Assurance at Scottish Fire and Rescue Service, said: "We are proud that our staff at our Newbridge Training Centre have been able to support with the trialling of this technology. Safety, Teamwork and Innovation are three of our core values as a service and we always welcome opportunities to work in partnership with higher education organisations and the fantastic work they do in exploring ideas to improve community and firefighter safety."
[/fusion_text][/fusion_builder_column][/fusion_builder_row][/fusion_builder_container]
https://thenationalrobotarium.com/wp-content/uploads/Chris-Watt-Photgraphy_201-scaled.jpg
1709
2560
Louise Jack
http://thenationalrobotarium.com/wp-content/uploads/Robotarium.png
Louise Jack
2022-09-28 00:01:41
2022-09-29 12:11:35
The National Robotarium teams-up with Scottish Fire and Rescue Service on AI-empowered smart helmet that helps firefighters better locate victims