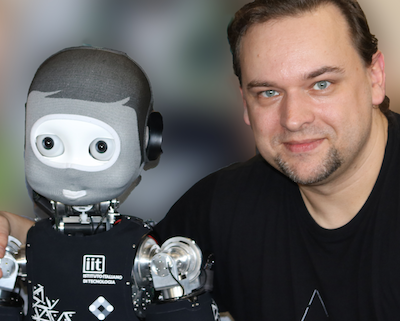 Dr Ingo Keller has been appointed as the first Head of Robotics at the National Robotarium, the UK's centre for Robotics and Artificial Intelligence.
A software, AI and robotics engineer with over 20 years of experience in science and industry, Ingo will lead the facility's growing team of robotics engineers as they test and develop new technologies and systems to address real-world challenges. Current projects include robotics for sectors including agriculture, construction, manufacturing, aerospace and fisheries.
Ingo has in-depth, hands-on experience with a multitude of robotic systems, including all phases of software development, life-cycle management and DevOps tooling. He has co-founded a number of start-up technology companies in software architecture and database management systems, developing a keen understanding of the potential of applied emerging technologies for addressing industry challenges.
Prior to his new role, he was Chief Technology Officer at Xihelm, a London-based robotic harvesting solutions company, where he worked while completing a PhD in Data Augmentation for Human-Robot Interaction at Heriot-Watt University, where the National Robotarium is based.
On his new appointment, Ingo said: "I'm delighted to join the National Robotarium team at this exciting stage of its development and lead on the creation of robotics, AI and engineering systems that can truly transform people's lives and work. My goal is to get more robots out of the lab and into the wild, and being able to talk directly to industry leaders about their challenges means we can develop safe, practical, and effective robotic technologies that can be seamlessly integrated into society.
"I'm also passionate about sharing the knowledge and expertise of our talented team to build robotics skills in different sectors, ensuring people are equipped with the tools they need to operate and manage robotics and AI, and promoting the positive benefits of these technologies to all."
Stewart Miller, Chief Executive Officer, said: "The appointment of Ingo as our first Head of Robotics is an important and exciting milestone for the National Robotarium. He is passionate about applying his extensive expertise to new and interdisciplinary problem spaces and will be a great ambassador, working with experts in all fields of science and industry to advance state-of-the-art robotics systems."
https://thenationalrobotarium.com/wp-content/uploads/WebsitePic-400x400-1.png
400
400
Louise Jack
http://thenationalrobotarium.com/wp-content/uploads/Robotarium.png
Louise Jack
2023-08-29 09:50:12
2023-10-24 12:06:29
The National Robotarium appoints first Head of Robotics