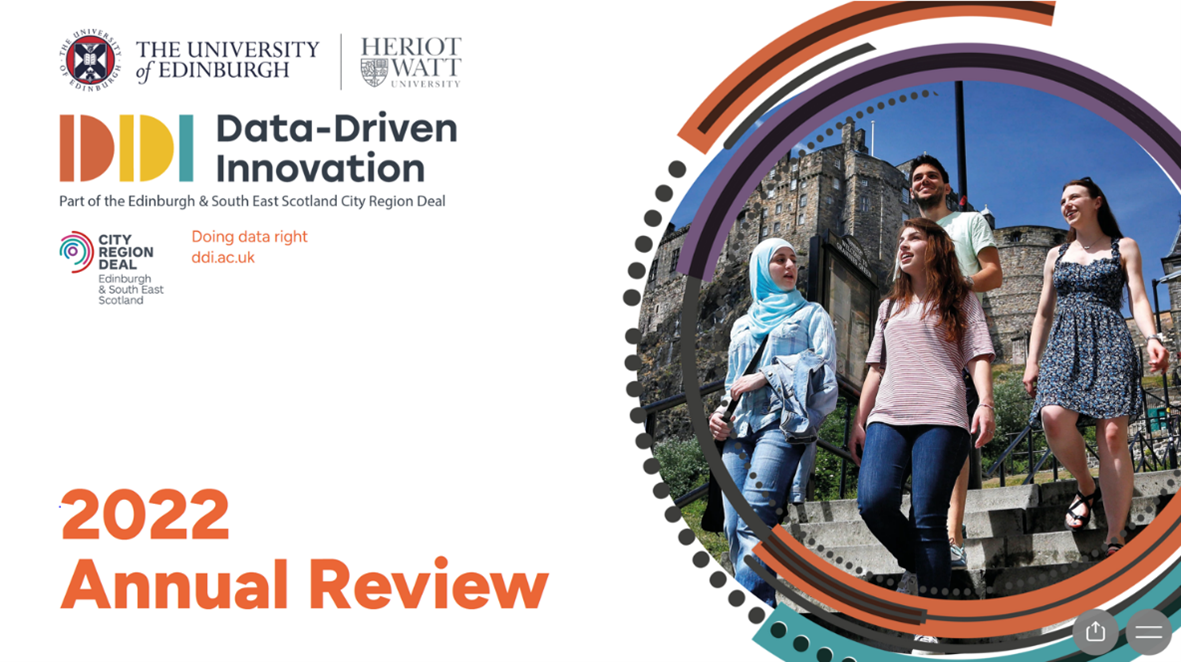 Autonomous 3D-mapping technology and robotic surgery created by researchers at the National Robotarium are just two of the highlights in the inaugural Data-Driven Innovation (DDI) Annual Report.
The report, available to view via this link, highlights progress across a range of projects at Heriot-Watt University and The University of Edinburgh, partnership hosts of the six data-driven innovation hubs funded via the Edinburgh and South-East Scotland City Region Deal. Already opened are the National Robotarium, the Bayes Centre, Easter Bush Agritech Hub, and Edinburgh International Data Facility (EIDF). The Edinburgh Futures Institute and new Usher Institute building are due to complete construction over the next year.
The review highlights examples of data-driven research, external partnerships and education, showcasing diverse activity across the hubs including empowering students to become change agents to revolutionising cancer surgery with robotics, a breakthrough surgical method that is being developed by the National Robotarium research team, led by Dr Yuhang Chen, alongside industry partners and two leading clinicians working at the Western General Hospital in Edinburgh.
Research and development of software that allows construction companies to send a robot on-site to conduct surveys and create a 3D model of the environment, is also showcased it the review. The SLAM project, being developed by Kaicheng Zhang and colleagues from the National Robotarium, uses autonomous lidar technology in robotics to improve efficiency and reliability of data mapping in hazardous or remote locations.
These and other case studies within the review have been produced in podcast, video and article formats, providing accessible and shareable insights into the essential work of the community of researchers and partners whose work has been supported by the Data-Driven Innovation initiative.
Jarmo Eskelinen, DDI's executive director, said: "It is a great privilege to lead an innovation programme of this scale and ambition. One of my drivers as DDI's director is to help our hubs form a unified innovation platform, allowing researchers to work together at the crossroads of academic disciplines where exciting innovations can take place. This year's review highlights the breadth of the initiative and – most importantly – the talented researchers who are realising the DDI ambitions of both the University of Edinburgh and Heriot-Watt University."
Principal of Heriot-Watt University, Professor Richard A. Williams said: "As delivery partners for the Deal's Data-Driven Innovation initiative, Professor Peter Mathieson [Principal of The University of Edinburgh] and I are committed to the vision of Edinburgh becoming the Data Capital of Europe, delivering inclusive growth, providing data skills to at least 100,000 people, and solutions to global challenges.
"The network of six Hubs is our tool to develop and experiment with new ways to teach, research and innovate. Hubs are exciting new spaces open to the world, enabling new intersections of academic disciplines and supporting partnerships across organisational boundaries."
https://thenationalrobotarium.com/wp-content/uploads/DDI-Annual-review-2022.png
662
1181
Louise Jack
http://thenationalrobotarium.com/wp-content/uploads/Robotarium.png
Louise Jack
2022-12-08 11:49:28
2023-09-27 17:07:36
DDI publishes inaugural annual report