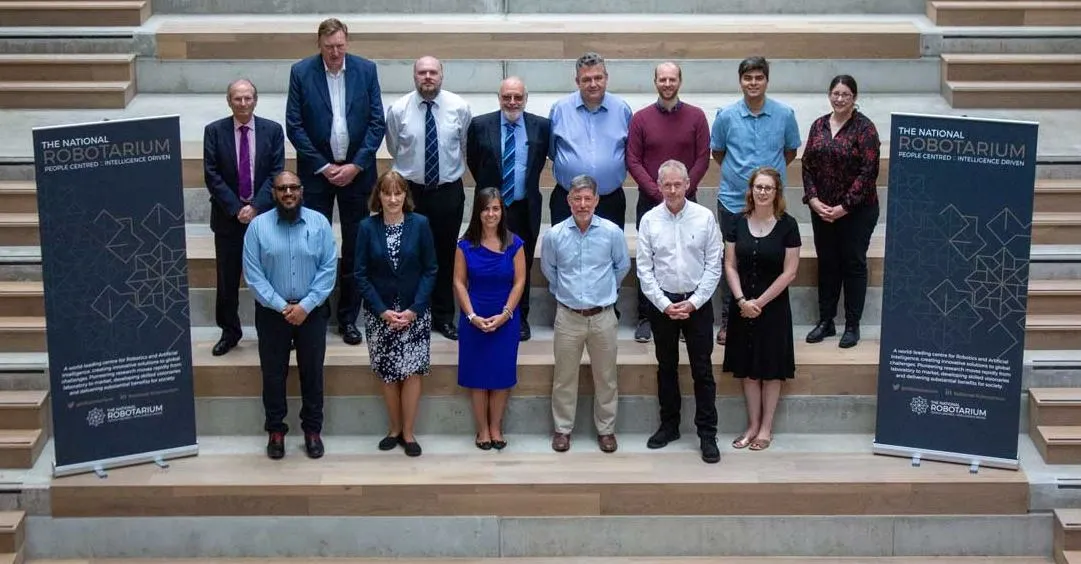 AWE explores robotics opportunities with the National Robotarium
[fusion_builder_container type="flex" hundred_percent="no" equal_height_columns="no" hide_on_mobile="small-visibility,medium-visibility,large-visibility" background_position="center center" background_repeat="no-repeat" fade="no" background_parallax="none" parallax_speed="0.3″ video_aspect_ratio="16:9″ video_loop="yes" video_mute="yes" border_style="solid"][fusion_builder_row][fusion_builder_column type="1_1″ type="1_1″ layout="1_1″ background_position="left top" border_style="solid" border_position="all" spacing="yes" background_repeat="no-repeat" margin_top="0px" margin_bottom="0px" animation_speed="0.3″ animation_direction="left" hide_on_mobile="small-visibility,medium-visibility,large-visibility" center_content="no" last="true" hover_type="none" first="true" background_blend_mode="overlay" min_height="" link=""][fusion_text]
Senior representatives from the National Robotarium, the UK's leading centre for robotics and AI, hosted strategic partner AWE for a day of activities and talks centred on sharing expertise and opportunities for collaboration.
AWE is one of Heriot-Watt University's longest-established academic partnerships, carrying out STEM research for mutual benefit.
During the visit CEO of the National Robotarium, Stewart Miller, gave a tour of the new multimillion-pound facility, due to open at Heriot-Watt University's Edinburgh campus in the autumn when it will become home to the largest and most advance applied research facility for robotics and AI in the UK.
The tour included a sneak preview of its specialist Robotics and Autonomous Systems (RAS), Human and Robot Interaction (HRI), and High-Precision Manufacturing labs, which will be used as shared test centres for the development of robotic solutions to real-world industry challenges.
Following the tour, National Robotarium academic co-lead, Professor Yvan Petillot, and Academic Lead in Precision Laser Applications, Dr Richard Carter, led a workshop on how the two organisations could share knowledge and expertise and together advance future-thinking research and teaching in the use of robotics and AI for safeguarding and security. The National Robotarium has already forged partnerships to develop ground-breaking robotics for health and social care, hospitality, agriculture, energy, manufacturing, and the offshore sector.
Attendees also discussed how the National Robotarium's CPD and talent programmes could support AWE students and graduates to develop practical robotics and AI skills that could be utilised within different sectors and industry roles.
Dr Richard Carter said: "Heriot-Watt and AWE have worked together for many years now, forming a strategic alliance over a number of successful projects in statistics, modelling and optical metrology.
"This recent visit to the National Robotarium has provided an opportunity to explore how we can expand this relationship into the field of robotics and AI, and to showcase our new facility as a hub for creating innovative, cutting-edge research and technology with different industry and government partners."
AWE Head of Outreach, Professor Norman Godfrey, said: "The National Robotarium at Heriot-Watt University is a fantastic new UK facility. Its formation provides a unique opportunity for AWE to engage at the earliest stage with the technologies, processes and policies it is developing for multiple industrial partners."
[/fusion_text][/fusion_builder_column][/fusion_builder_row][/fusion_builder_container]
https://thenationalrobotarium.com/wp-content/uploads/awsrobotarium_rdax_80.webp
564
1081
Louise Jack
http://thenationalrobotarium.com/wp-content/uploads/Robotarium.png
Louise Jack
2022-07-27 21:10:51
2022-09-27 11:18:58
AWE explores robotics opportunities with the National Robotarium