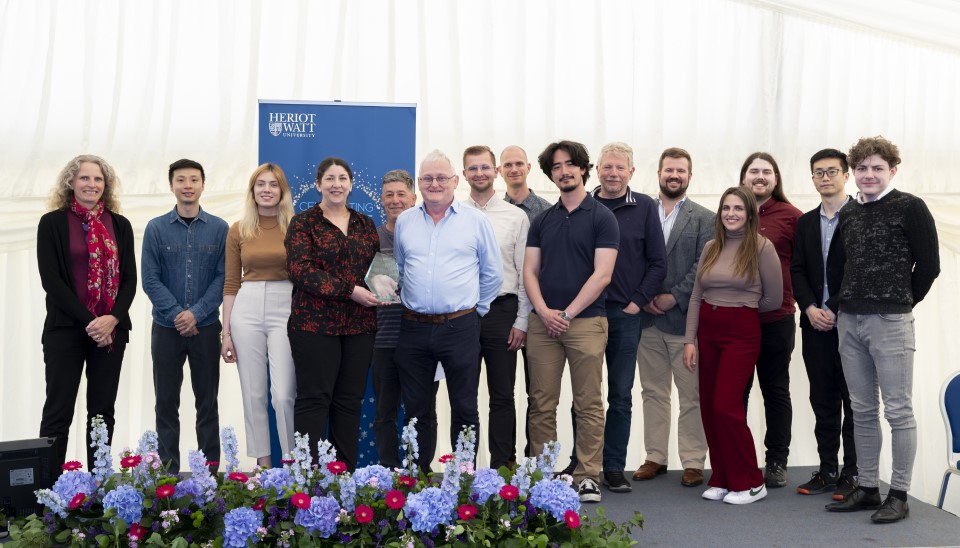 [fusion_builder_container type="flex" hundred_percent="no" equal_height_columns="no" hide_on_mobile="small-visibility,medium-visibility,large-visibility" background_position="center center" background_repeat="no-repeat" fade="no" background_parallax="none" parallax_speed="0.3″ video_aspect_ratio="16:9″ video_loop="yes" video_mute="yes" border_style="solid"][fusion_builder_row][fusion_builder_column type="1_1″ type="1_1″ background_position="left top" border_style="solid" border_position="all" spacing="yes" background_repeat="no-repeat" margin_top="0px" margin_bottom="0px" animation_speed="0.3″ animation_direction="left" hide_on_mobile="small-visibility,medium-visibility,large-visibility" center_content="no" last="no" hover_type="none" min_height="" link=""][fusion_text]
Research led by Heriot-Watt University has been shortlisted in the prestigious Times Higher Education THE Awards 2022, in recognition of its ground-breaking robotics research to support the energy transition.
Offshore wind is a critical component in the drive to net zero. However, inspecting and maintaining these infrastructures is dangerous, expensive and requires support vessels with a high carbon footprint.
Launched in October 2017, with expertise from 13 universities and 30+ industry partners, the Offshore Robotics for Certification of Assets (ORCA) Hub has been leading a revolution in offshore energy inspection, collaborating on an unprecedented scale to match research directly to industry needs.
The work, which is now being progressed as part of the National Robotarium, a partnership between Heriot-Watt University and the University of Edinburgh, has demonstrated how Robotics and Autonomous Systems can safely inspect, maintain, and repair offshore infrastructure, guided by people on ships or onshore. Examples include what is believed to be the first autonomous foundation inspection at an offshore wind farm, developing 3D maps to show repair needs.
Widely known as the 'Oscars of higher education' the Times Higher Education (THE) Awards attracted more than 550 entries this year. The ORCA Hub is shortlisted for STEM: Research Project of the Year.
Professor Yvan Petillot, director of the ORCA Hub and joint academic lead of the National Robotarium, said: "We are enormously proud to be shortlisted for this prestigious award and it is a testament to the incredible work of all our researchers, our multiple collaborators and industry partners who have supported our work over the last five years. The ORCA Hub's work has prompted a revolution in offshore energy inspection, raising the profile of Robotics and Autonomous Systems while accelerating government and industry net zero ambitions.
"Together with our collaborators, we have equipped drones with contact capabilities to monitor turbine surfaces, reducing risky human-led operations. We've showcased our work to more than 15,000 people in person through events and we've highlighted our research to more than 200 million people globally through media coverage. We're continuing our work as part of the National Robotarium to address some of industry's biggest challenges. Our far-reaching work has international impact and the ability to meet major societal needs as the race to net zero gathers pace. We'd urge those with an interest in collaborating to get in touch with us."
THE editor John Gill said: "This is the 18th year that the THE Awards will celebrate the best that UK higher education has to offer, across 20 categories covering all aspects of university activity. Once again, the shortlists reflect universities doing extraordinary things in extraordinary times, during the 2020-21 academic year, when the pandemic continued to force higher education and all who work in it to respond to an unprecedented challenge.
[/fusion_text][/fusion_builder_column][/fusion_builder_row][/fusion_builder_container]
https://thenationalrobotarium.com/wp-content/uploads/ORCA-team-award.jpeg
548
960
Louise Jack
http://thenationalrobotarium.com/wp-content/uploads/Robotarium.png
Louise Jack
2022-09-02 16:29:05
2022-09-27 11:18:14
Robotics research shortlisted for education Oscar!