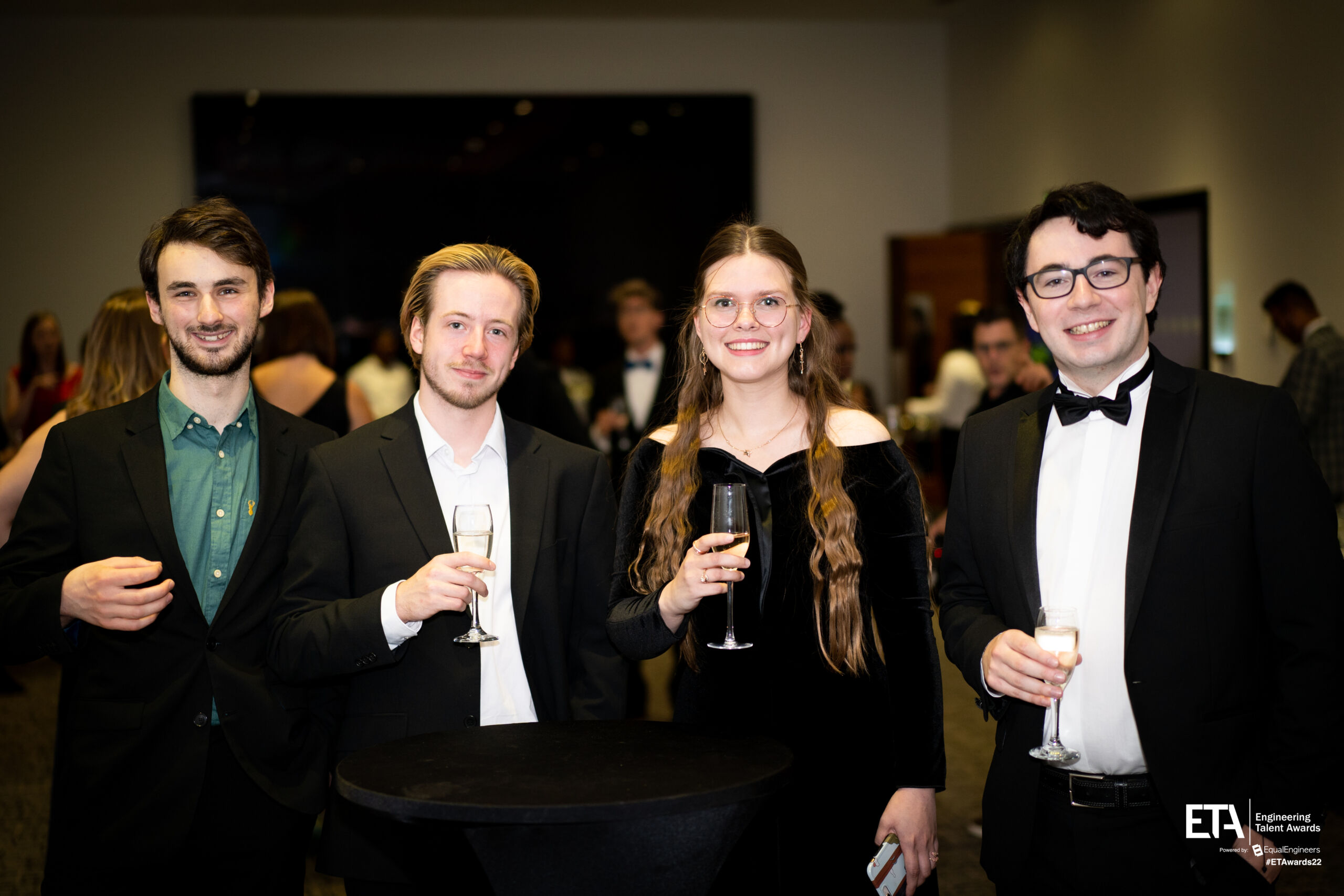 CENSIS, Scotland's Innovation Centre for sensing, imaging and Internet of Things (IoT) technologies has recently donated £1000 to the Heriot-Watt University Robotics Society. The generous contribution was arranged to support the society in its events and educational outreach programmes that teach students and secondary schools about robotics and autonomous systems.
The Robotics Society was founded in 2019 by current co-President Liza Masson and Calum Thow (pictured above alongside volunteer engineer David Ingleby and current co-president Bruce Wilson) and led by a small team of six, including Treasurer, Claudia Garcia Mendoza, and Head of Engagement, Mario Fuente Rodriguez.
It is open to any student interested in electronics and robotics. They run regular workshops, training and drop-in sessions where attendees can learn about different robotic technologies, use and test robotic equipment, borrow parts and create new projects, as well as social events, talks and interactive exhibitions.
Due to the society's ethos in improving accessibility within robotics and STEM, they were shortlisted for an Engineering Talent Award this year in the category of inclusivity and diversity, and its membership has grown from 20 in its first year to over 60 current active members.
Co-President Liza Masson said on behalf of the Society: "We are extremely excited by the collaboration between the Heriot-Watt Robotics Society and CENSIS. The support from them will allow us to fund our project teams, plan new workshops for members in semester 2 and purchase components that our members want or need.
"We're also very eager for the future plans to run lab tours and visits, giving our members even further experience and links to industry through the CENSIS network."
Paul Winstanley, CEO of CENSIS Innovation Centre
CEO of CENSIS Paul Winstanley said: ""It is a pleasure to offer this support to the Robotics Society. I met some of the team at the National Robotarium launch in September and what really stood out for me was the group's creativity, positive attitude, and vision for robotics as a force for good. The society deserves a lot of credit for its commitment to inclusion by keeping it open to everyone, not just engineers.
"At CENSIS we've been saying for a long time that you don't need a tech background to find a rewarding career in automation, robotics or the Internet of Things. There are lots of job opportunities out there and it's wonderful to see this reflected in the workshops and activities the society offers."
As well as providing financial support, CENSIS has given the Society a lab tour of their offices in Glasgow and will contribute to their timetable of talks and presentations. The first talk, planned for early 2023, will have CENSIS Business Development Director, Cade Wells speak to the group on the IoT and its use in the robotics and automation sectors.
About CENSIS
CENSIS in a not-for-profit Innovation Centre established to support private businesses and public sector organisations to accelerate the pace of innovation by exploiting sensing, imaging and Internet of Things (IoT) technologies. Their work aims to de-risk and accelerate innovation and overcome technology barriers to allow businesses to transform, develop new products and services, improve operational effectiveness and profitability.
https://thenationalrobotarium.com/wp-content/uploads/52376292429_f5eac7453f_o-scaled.jpg
1707
2560
Louise Jack
http://thenationalrobotarium.com/wp-content/uploads/Robotarium.png
Louise Jack
2022-11-24 09:41:10
2023-09-27 17:08:27
CENSIS donates £1000 to Heriot-Watt Robotics Society