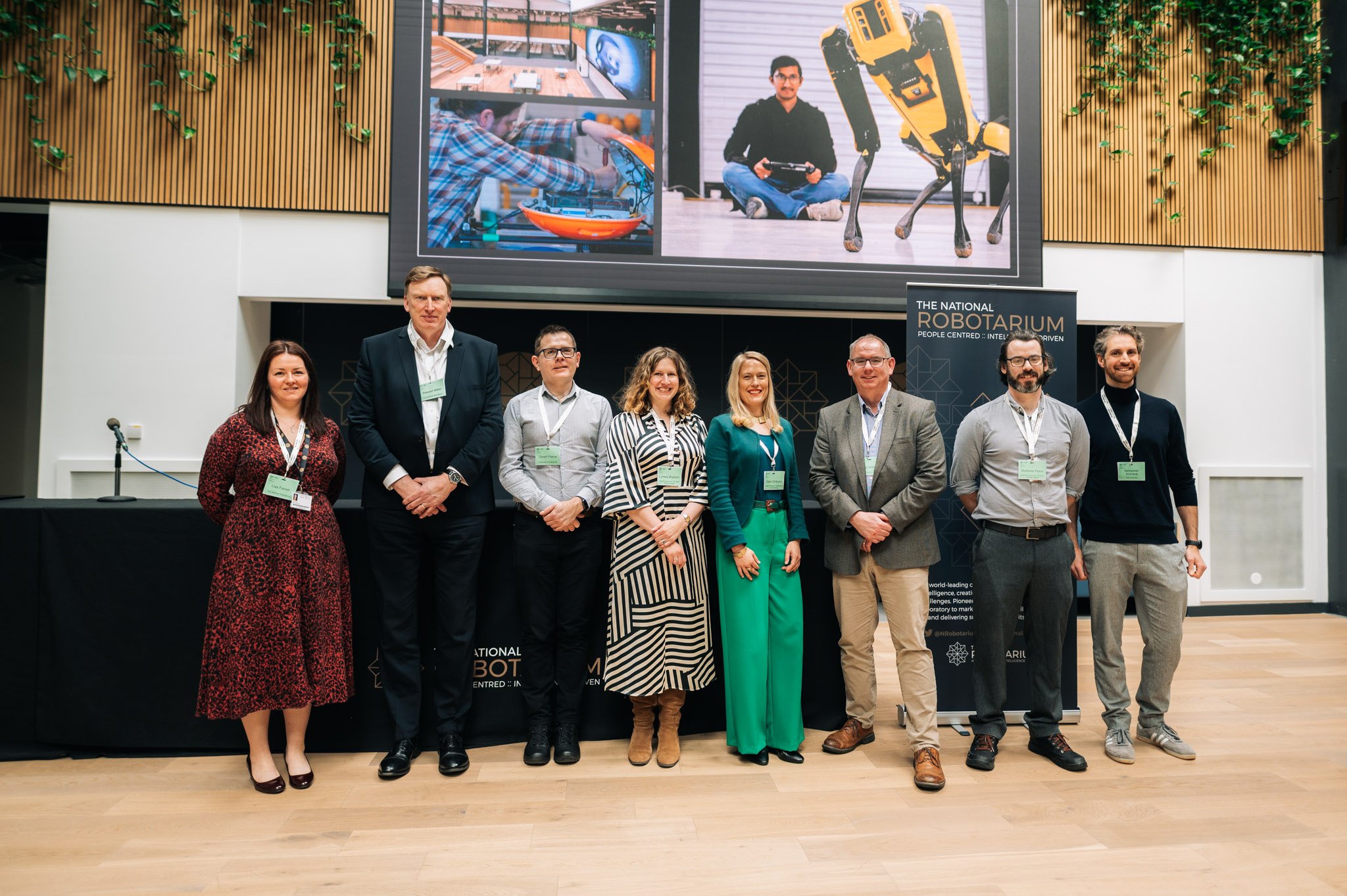 Representatives from the built environment, construction, trade, science and policy gathered in Edinburgh on 2 May for a half-day event co-hosted by the National Robotarium, the UK's leading centre for robotics and artificial intelligence, and BE-ST (Built Environment – Smarter Transformation), Scotland's innovation centre for accelerating the built environment's transition to zero carbon emissions.
'The Robots are Here' marked the beginning of a new partnership between the two organisations, which aims to raise awareness of the benefits of greater automation and use of robotics in the construction and built environment sectors, and to develop new innovations that tackle industry challenges.
The event, held at the National Robotarium, based at Heriot-Watt University in partnership with The University of Edinburgh, heard inspiring talks from key figures at the partner organisations, including National Robotarium Chief Executive Officer, Stewart Miller, and BE-ST Head of Digital Programmes, Lynsey Brydson, alongside experts from science, industry and robotics companies.
Attendees were also invited to tour the state-of-the-art facility and enjoy live demos that showcased how robotics in the built environment sector can improve performance, efficiency, quality, and help to address skills shortages.
Robots on display included unmanned ground vehicle Husky, which can traverse and scan a variety of internal and external terrains, and quadruped Spot, which was used during the construction of the National Robotarium to facilitate 3D mapping of the building site using its bespoke lidar scanner and SLAM (simultaneous localisation and mapping) technology, completing the job – which usually takes several days – in just 30 minutes.
Taking centre stage was a live demo of the Hilti Jaibot, a semi-autonomous drilling and construction robot that can increase productivity in MEP (mechanical, electrical and plumbing engineering) jobs and remove the requirement for humans to undertake strenuous or repetitive tasks such as overhead drilling.
The Hilti Jaibot is a semi-autonomous drilling and construction robot that can increase productivity in MEP jobs
Ruth Plant, Project Manager at the National Robotarium who was part of the team delivering the event said: "We're thrilled to host this event with BE-ST today and start our new partnership as we mean to go on, engaging with the construction and built environment networks and exploring the art of the possible with robotics for the sector.
"Robots have the potential of making many industries safer, more efficient and more productive. We are keen to share how we are applying robotics research to address practical challenges currently affecting the industry and I look forward to working with BE-ST on new innovation projects in this space."
Matthew Paton, Associate Impact Manager at BE-ST, also part of the team developing and delivering the event said: "We have brought the construction industry here today to explore the use of robotics.; BE-ST aims to help industry access knowledge and achieve innovation that can transform their businesses to be more efficient, more resilient and achieve their zero carbon ambitions.
"We have been working extensively with industry to explore the many benefits of robotics and highlight the potential to support digitally enabled solutions that are scalable, sustainable and safer for workers in the sector. It's been great to be part of today's discussions and demonstrations and I'm looking forward to the exciting collaborations that we will develop with industry over the coming months and years."
https://thenationalrobotarium.com/wp-content/uploads/Ben-Glasgow-102.jpg
1363
2048
Louise Jack
http://thenationalrobotarium.com/wp-content/uploads/Robotarium.png
Louise Jack
2023-05-03 10:39:38
2023-10-19 15:36:20
New partnership with BE-ST launched at construction robotics event at the National Robotarium